Shoppers Online: 2



*Current Turn Around Time: 5 business days*
$5.99 Flat Rate Shipping on U.S. retail orders, Free Shipping over $100!



Join our facebook group, we are very active and updates and questions are answered there.
Sugar & Spice GSC Fans.



Member of the Veterans Candle Maker Association

Now offering International shipping! International orders will be invoiced through paypal for exact shipping price for their package prior to shipment. Sorry, flat rate shipping does not apply to orders outside of the US unless shipping APO and I am only shipping Priority Mail as of 4/19.


Visit The Wax Addict for a review on my products! The Wax Addict Blog!

Vote for our site!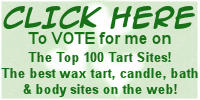 Search Engine Optimization and SEO Tools
All Rights Reserved © 2007 to present, Sugar & Spice Gourmet Soy Candles
Website Built with DIYeStores.com
Visits: 87936
Shopping Cart
Cart Value: $0.00
Cart Items: 0
View Cart
Featured Products
3 Pack Soy Blend Melts
$5.25
Custom Soy Blend Melt Crumbles
$16.00
4 Pack Custom Soy Blend Melts
$7.00
Ready to Ship 1.5 oz Soy Blend Melts
$1.75
Search Products
Enter Keyword and click Go to Search Products